Full Moon Names
January:
Wolf Moon
February:
Snow Moon,
Hunger Moon,
Opening Buds Moon
March:
Maple Sugar Moon,
Worm Moon
April:
Frog Moon,
Pink Moon,
Planter's Moon
May:
Flower Moon,
Budding Moon
June:
Strawberry Moon
July:
Blood Moon,
Buck Moon
August:
Moon of the Green Corn,
Sturgeon Moon
September:
Harvest Moon (click to see explanation)
October:
Hunter's Moon,
Moon of Falling Leaves
November:
Beaver Moon
December:
Cold Moon
When a month has two full moons, the second is often called a Blue Moon.

Daily moon phase screensaver for your computer
With the StarMessage moon phase screensaver you can be notified about the upcoming full moon and the full moon name. Learn More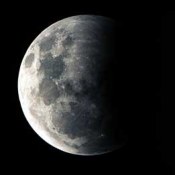 Instantly view the Moon Phase on your computer desktop with a moon phases screensaver
StarMessage: The Moon Phases Screensaver for Microsoft Windows
¤
View the current lunar phase
¤
Get reminder about the next full moon
¤
Write your messages with the stars of the night sky
Find great stars, full moon, space, and astronomy screensavers at Screensaver-Download.com
Opinions about the StarMessage screensaver by other users like you
¤
I downloaded the trial and was so pleased with it I HAD to register it. It's great to look at, its a good communication tool. I leave greetings, messages there for other family members. Its amazing and practical, worth every penny and A+ customer support.

Janice Brown


¤
This is by far the very best screen saver one can find. Lost hard drives etc....I will reinstall each and every time. Have had since 98 and wouldn't change it for one second. Who can ask for more than the 'moon and stars'?
Sherry Smothers
Sarasota, FL

A great gift for all of us who love the moon and stars
Shows the current moon phase.
Notifies you about the upcoming full moon and the full moon name.
Lets you write your name, your wishes, or your love messages with the stars of the night sky.
Calms you with tender sounds of ocean waves, birds, lullabies.
Shows famous quotes of love, peace, wisdom and humor.
Is easy to install or to remove.
Carefully engineered, to use minimum disk and memory space from your computer. It does not overload your computer.